Yes there is!
I guess every cloud really does have a silver lining. Soon, so will the fans of King's Quest. After the hopeful news I could report this morning, Phoenix Online have revealed their new website. Not only does it look great, it also comes with great news!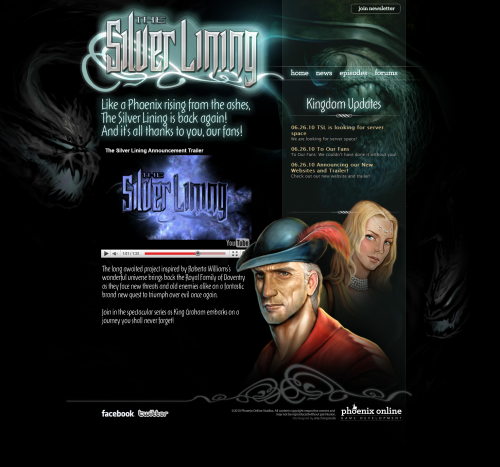 No doubt due to the tireless work and pressure by volunteers and possibly by surprise about the amount of negative publicity generated by their C&D order, Activision have contacted the TSL team and, after negotiations, rescinded it as well as granted a new non-commercial license for release of the game. Phoenix Online have put up a post thanking the fans for the support. Additionally, they've put up a new trailer and set an official release date for the game, just two short weeks from today: July 10th, 2010.
This is great news not only for the fans, but even more so for the developers and volunteers who will now get the opportunity to see the fruits of their labour enjoyed by so many people. I for one am overjoyed to see this happen and glad Activision was able to reconsider and do the right thing.
Here's the trailer for the upcoming release: