This year's Adventure Jam has yielded some great entries again. Those who, like myself, have entered get to vote on other people's submissions before they go on to the judges. I'm trying to play every single other entry, vote, and leave constructive criticism and/or positive comments on each one. Every team or individual person who took on the herculean task of making an adventure game from scratch in a mere two weeks is to be commended. Whether gorgeous pixel art with full voice acting, a bunch of stick figures, or even a text-only adventure, everybody has a story to tell. Even those who had to drop out or had to submit something they knew was buggy or far from finished should be proud of their efforts.
Of course, despite my appreciation for even the simplest and most unfinished projects, I can't help but have my own favourites or to be in awe at some of the most amazing entries and felt I have to give a shout-out to these. If you haven't yet checked out any of the games on offer, you definitely should. But please also don't neglect the other entries, because your taste could well be different from mine and I might have missed some absolute gems, or simply because I chose to limit myself to a mere 13 picks! Bearing in mind that my personal preference is for inventory-based point-and-click adventures, here are some of my favourites in alphabetical order:
Of course, if you are interested in my own entry, you can find Escape from DIMANSION right here on my site.
Amicus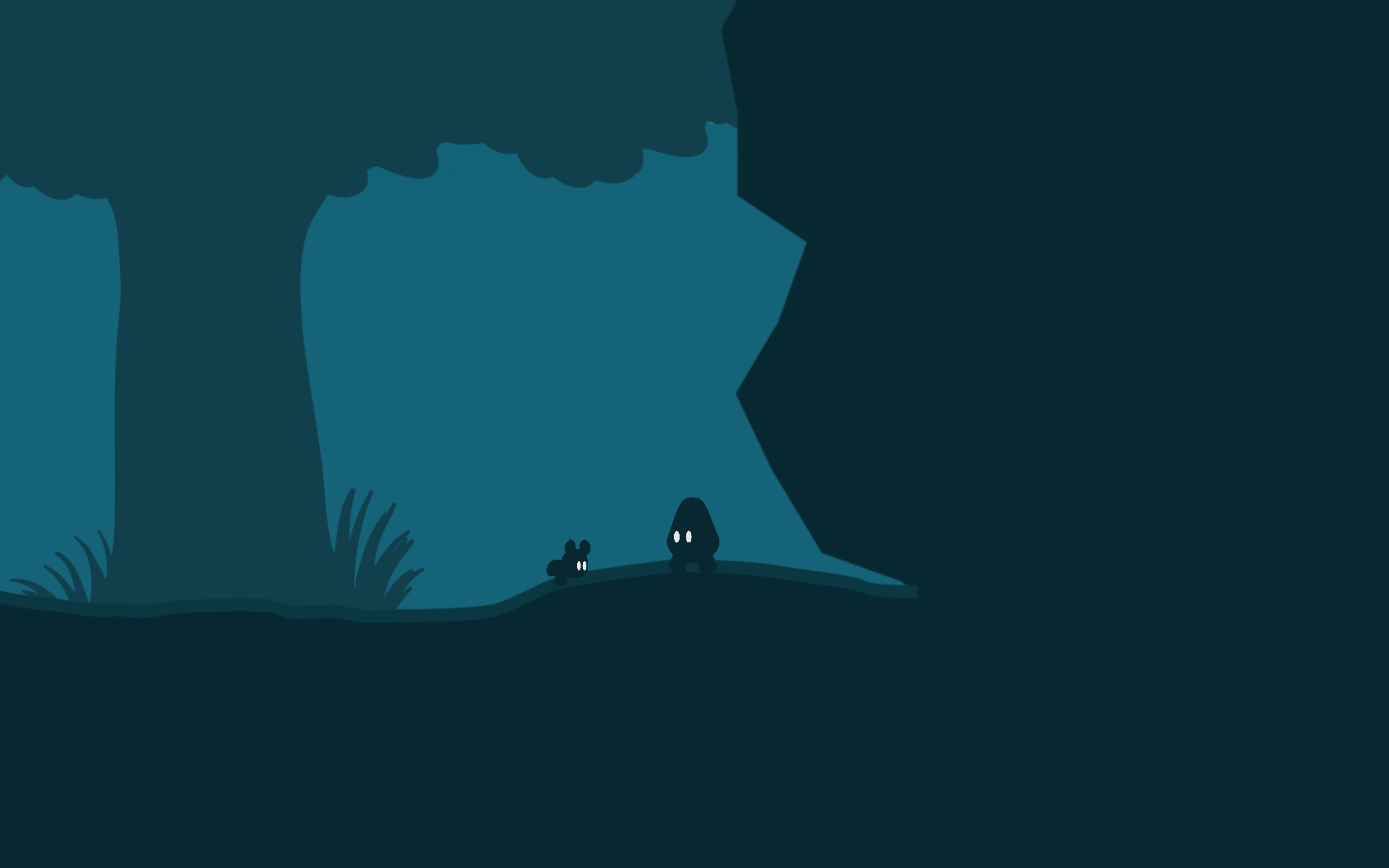 Starting off with something that is decidedly not an inventory-based point-and-click game, Amicus uses a platform mechanic and tells a story silently and wordlessly about an outcast little creature and his little pet. Although I had to give up partway through because of my lacklustre platforming skills and the controls leaving something to be desired, it is the aesthetic, the atmosphere and the story that really got to me and I really wish I could get further along the story and see whether this cute goomba gets a happy ending.
Check out Amicus, by Fryon
Another Heaven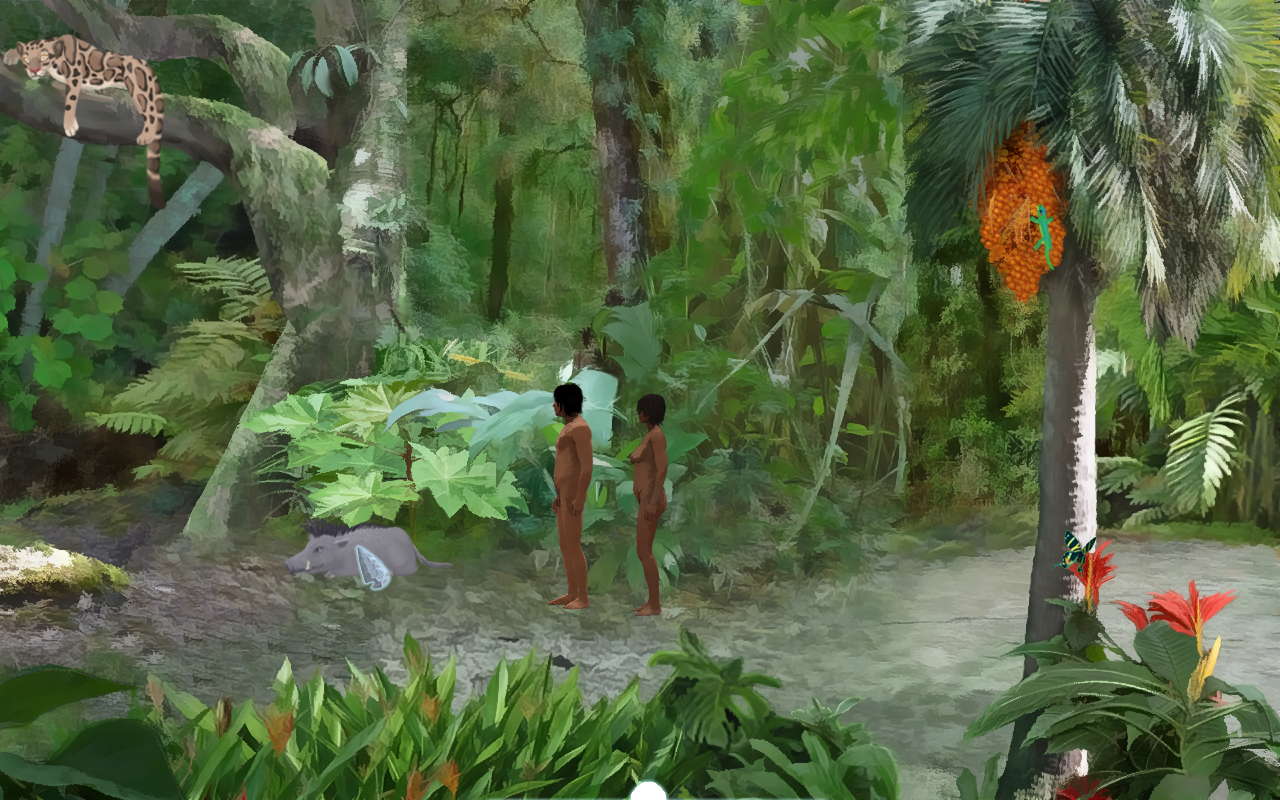 When Akril15 creates a game you know it will be absolutely gorgeous to look at and this was no exception. While short because of the 14-day limit of the jam, the story it tells is actually quite poignant about the place we humans have in the world. What really struck a chord with me was how one of the actions you have to perform actually foreshadows the moral of the story.
Check out Another Heaven, by Akril15
Brexit-Man in Airport-Land, the Re-Brexiting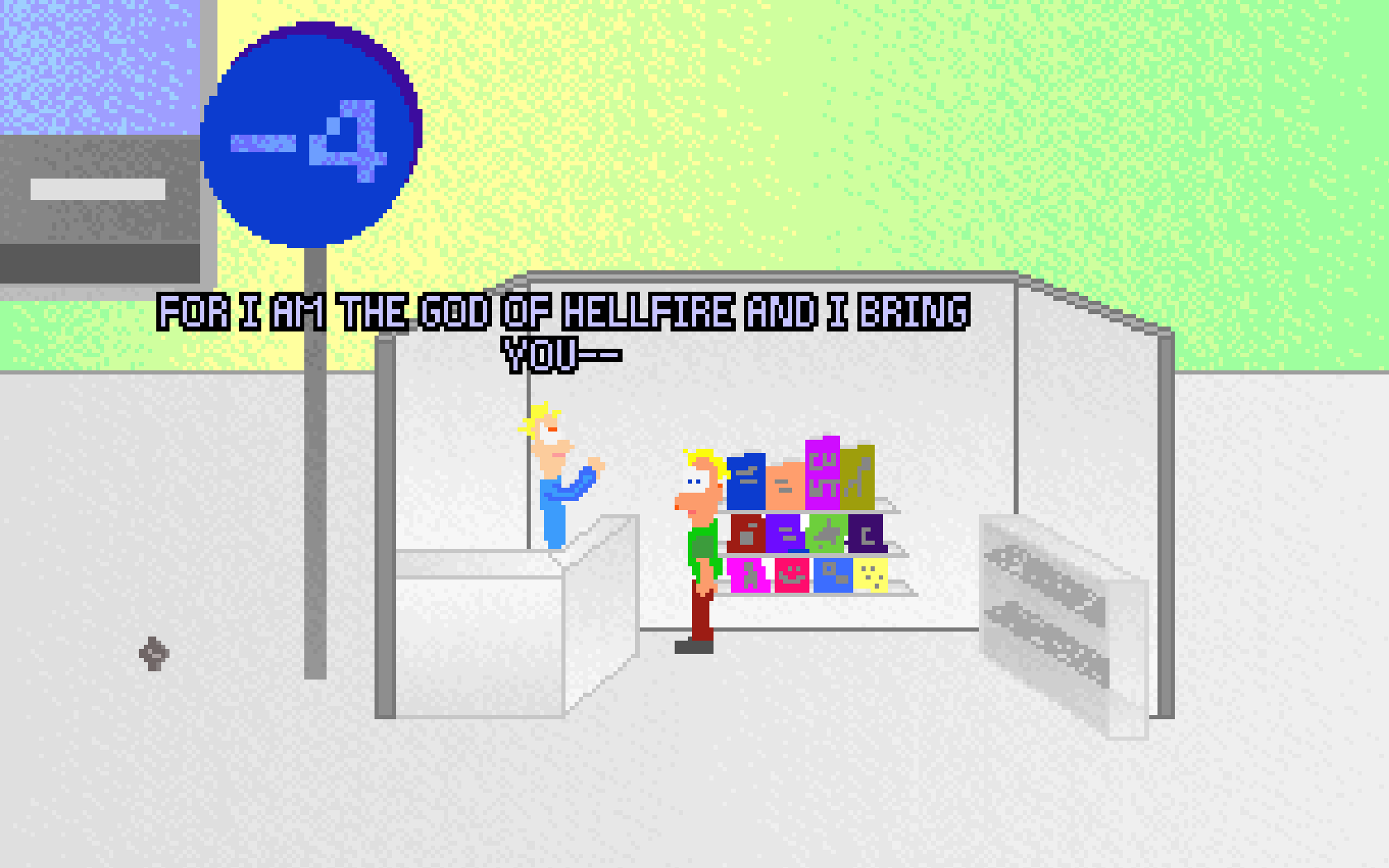 Don't let the simplistic, decidedly 1990-ish graphics fool you, this game is far from amateurish. What this game is is frickin' hilarious with spot on voice acting for all the characters and a wonderfully absurd story. The dialogue made me literally laugh out loud several times, which is a rare thing indeed. Highly recommended little adventure from the twisted minds who brought us Ramp It Up! last year.
Check out Brexit-Man in Airport-Land, the Re-Brexiting, by The Adventure Think Tank
The Darkest Tree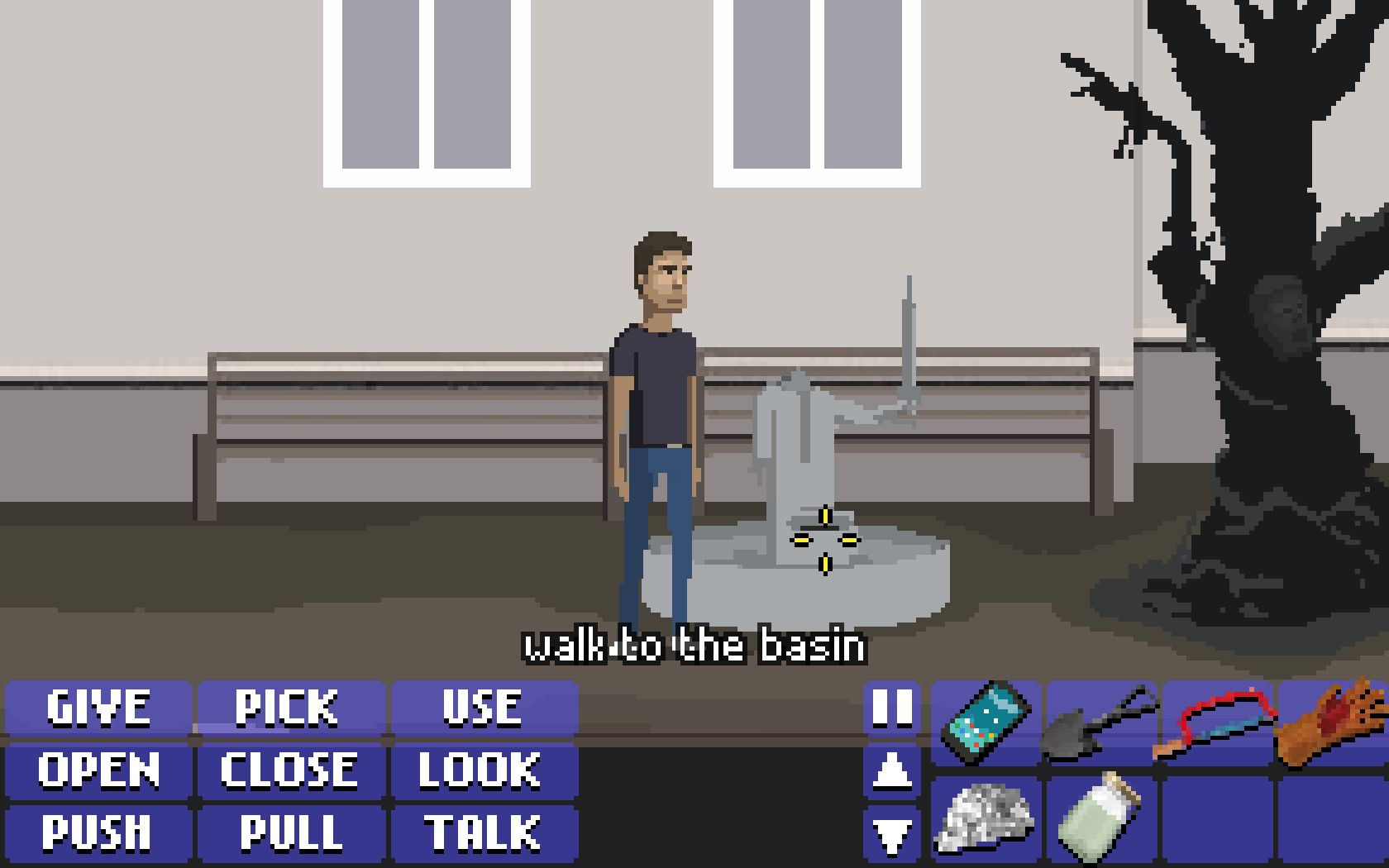 Marco Giorgini created one of my favourite entries last year, The Child of the Hill House and he's upped his game this year. Despite the rough edges, there is an astonishing amount of content in here and a well-written full-length story set in Marco's home country of Italy. Even though at first I thought I could see where he was taking the story, it turned out I was wrong and he managed to surprise me after all.
Check out The Darkest Tree, by Marco Giorgini
An Eternity, Reflecting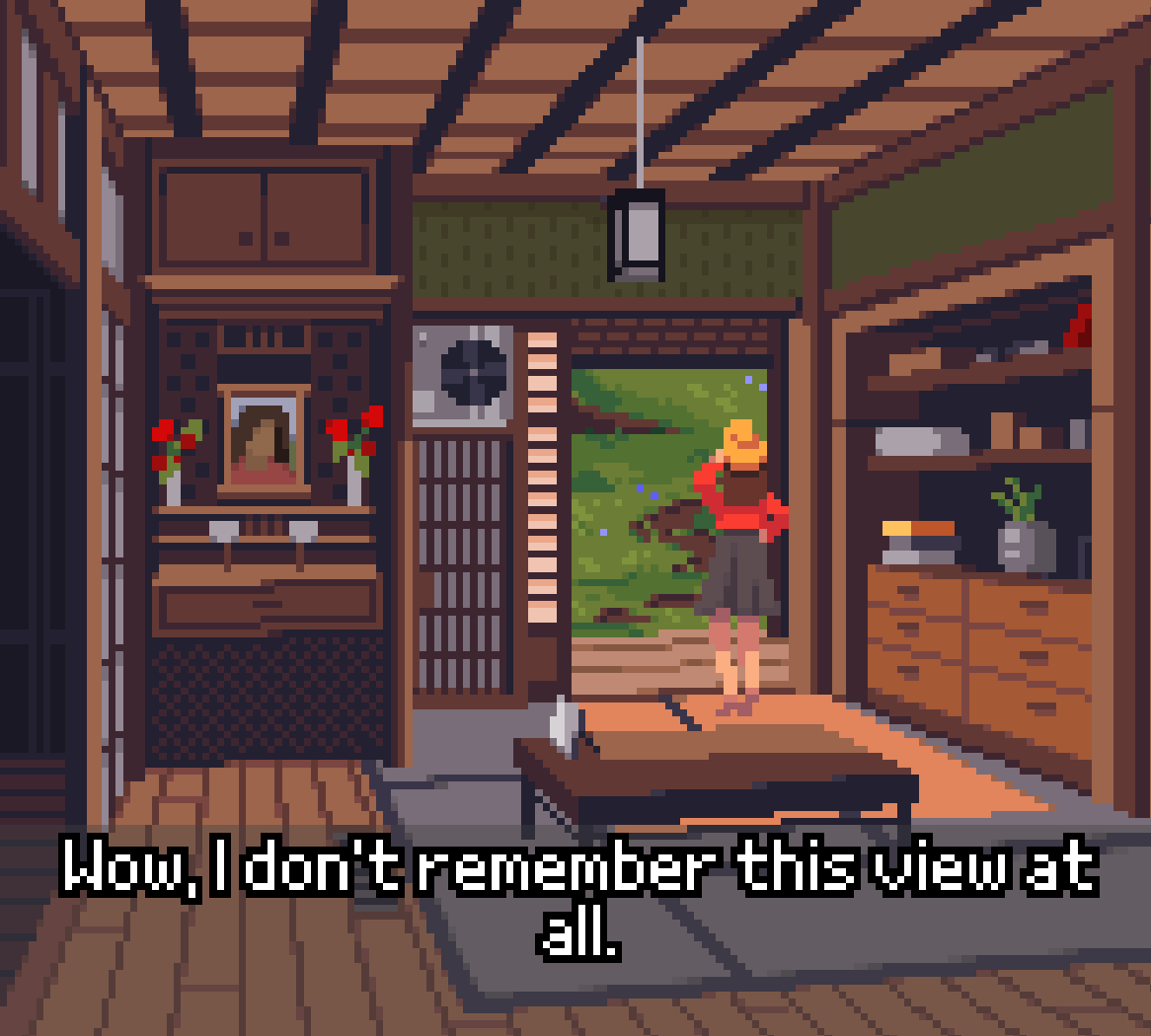 A beautiful story about a girl travelling home to see her estranged father for the first time since childhood. As she waits for him to get home, you find out more about what motivated him all those years ago. Beautiful pixel art and an unconventional way of moving about the scene allows the author to focus on telling the very moving story.
Check out An Eternity, Reflecting, by MattFrith
The Inanimate Mr. Coatrack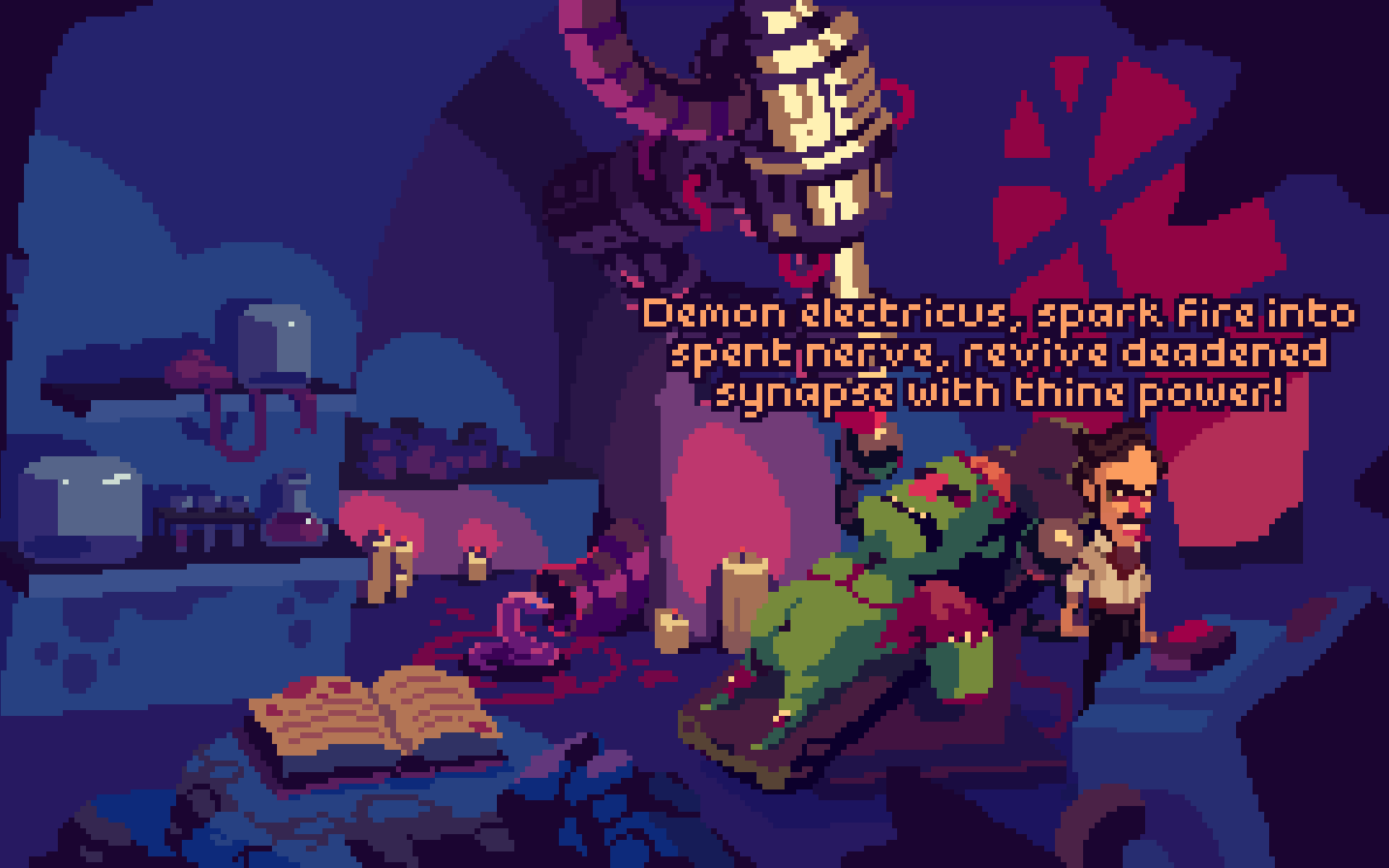 Powerhoof are a true powerhouse in the Adventure Jam consistently having highly ranked entries for the past few years. Their games tend to be wonderfully over-the-top dramatic with gorgeous pixel art putting the player in the most horrific situations they can think up. This year's entry starts out very much in character with a very Frankenstein feel, but quickly has a surprise for the player. The writing, art and voice acting (all voices done by the terrific Adrian Vaughan) are all as close to perfect as you could possibly hope to get.
Check out The Inanimate Mr. Coatrack, by Powerhoof
Killer Frequency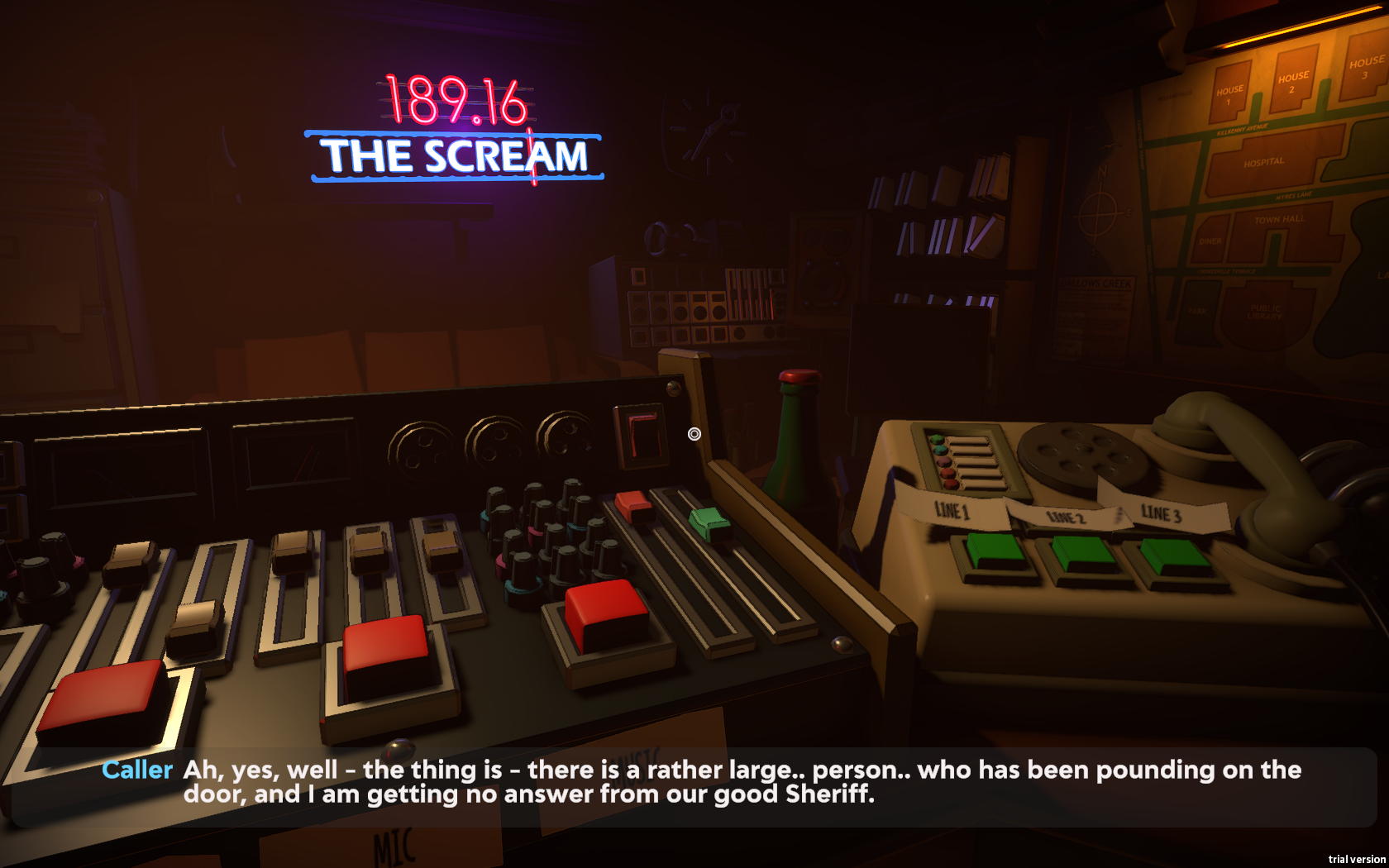 Last year, Adam Findlay impressed me with his unusual detective story The Last Act. This year's entry is quite different, but no less amazing. You play as a 1980s radio host who has to contend with a serial killer in his small town. While you don't ever leave the studio, the story is told through incoming phonecalls from listeners. It is quite a novel approach and manages to get the heart thumping and adrenaline flowing.
Check out Killer Frequency, by awfindlay
The Mysterious Spaceship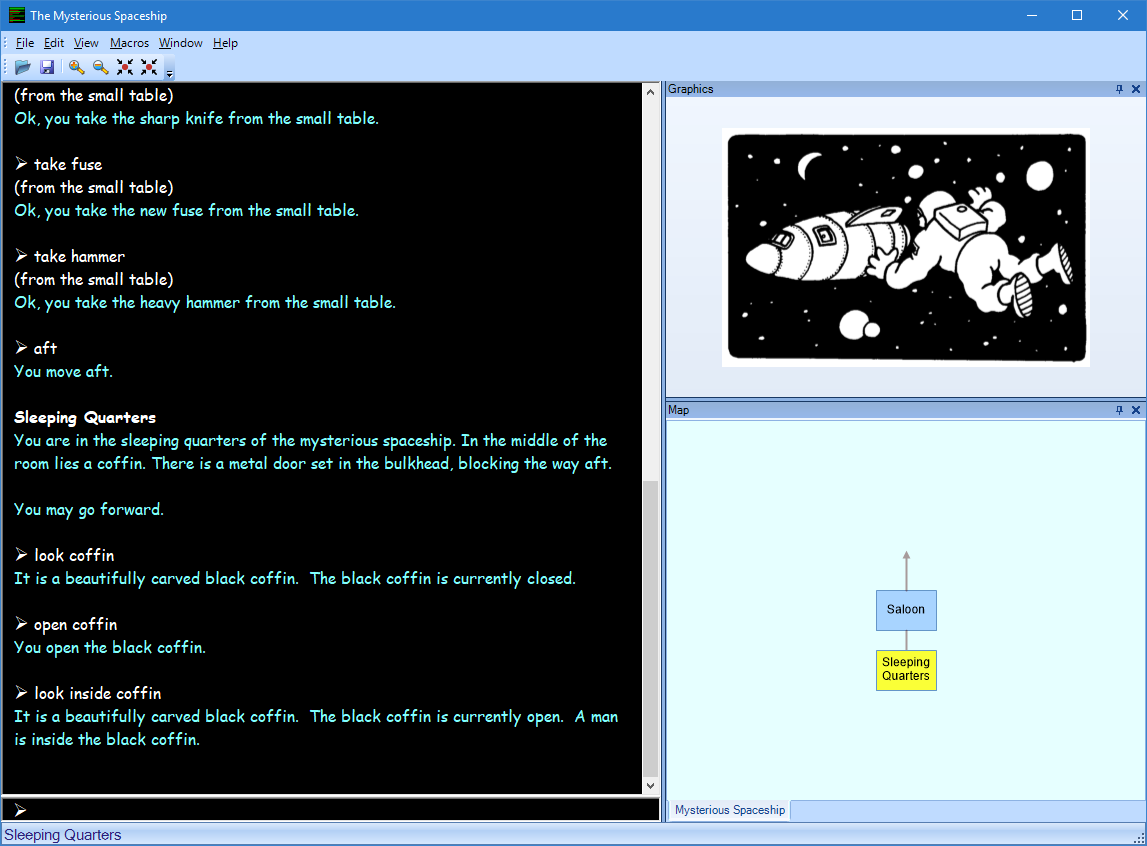 The smallest game in my list, The Mysterious Spaceship is a text adventure that has only a few images to go with the text, though you won't see most of these until you are almost at the end. Adventure games played with a text parser require some perseverance on the part of the player, but I found this one to be quite well done. The puzzles make sense and don't have any moon logic other than the literal kind.
Check out The Mysterious Spaceship, by nereksnad
Night of the Crescent Moon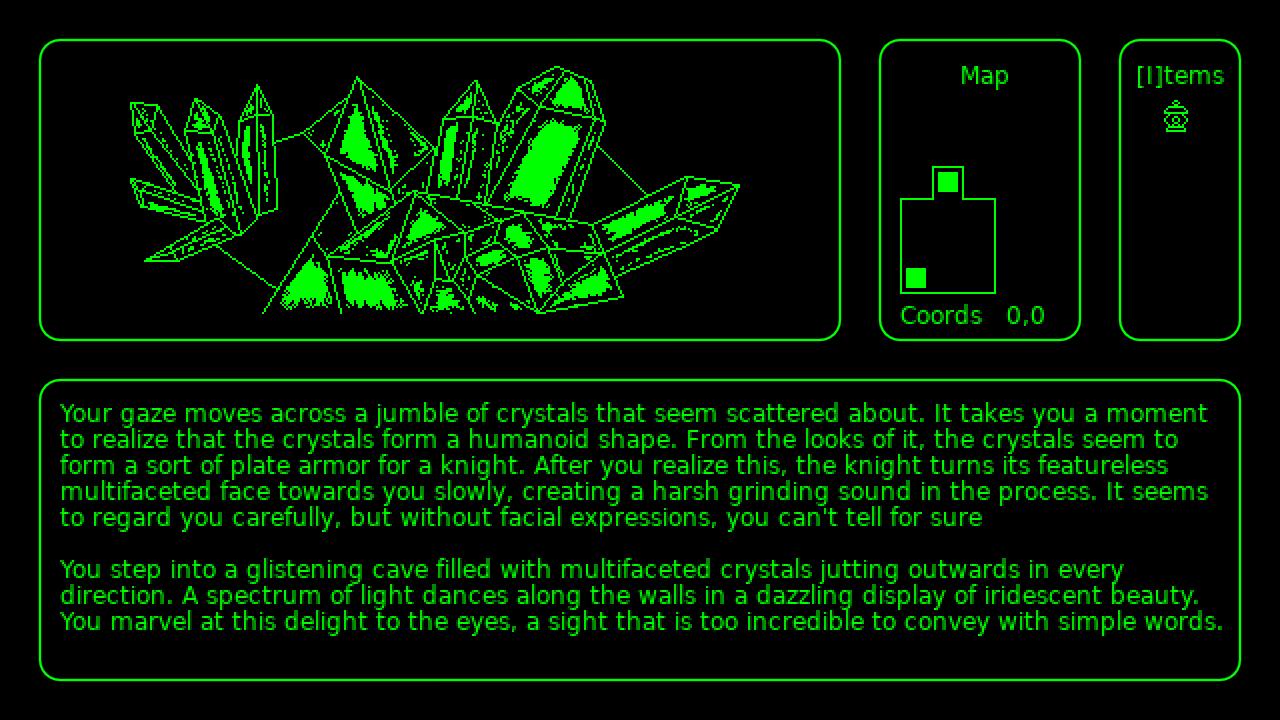 Another text adventure, albeit one without a parser and with the benefit of some scene graphics. The game is reminiscent of the kind of games I played on the 8-bit microcomputers in my childhood. By virtue of being a text adventure, the author could add some extra depth to the story and, even if I didn't catch every nuance, it felt quite epic. The game even includes multiple endings.
Check out Night of the Crescent Moon, by Roc Studios
Rusty's Release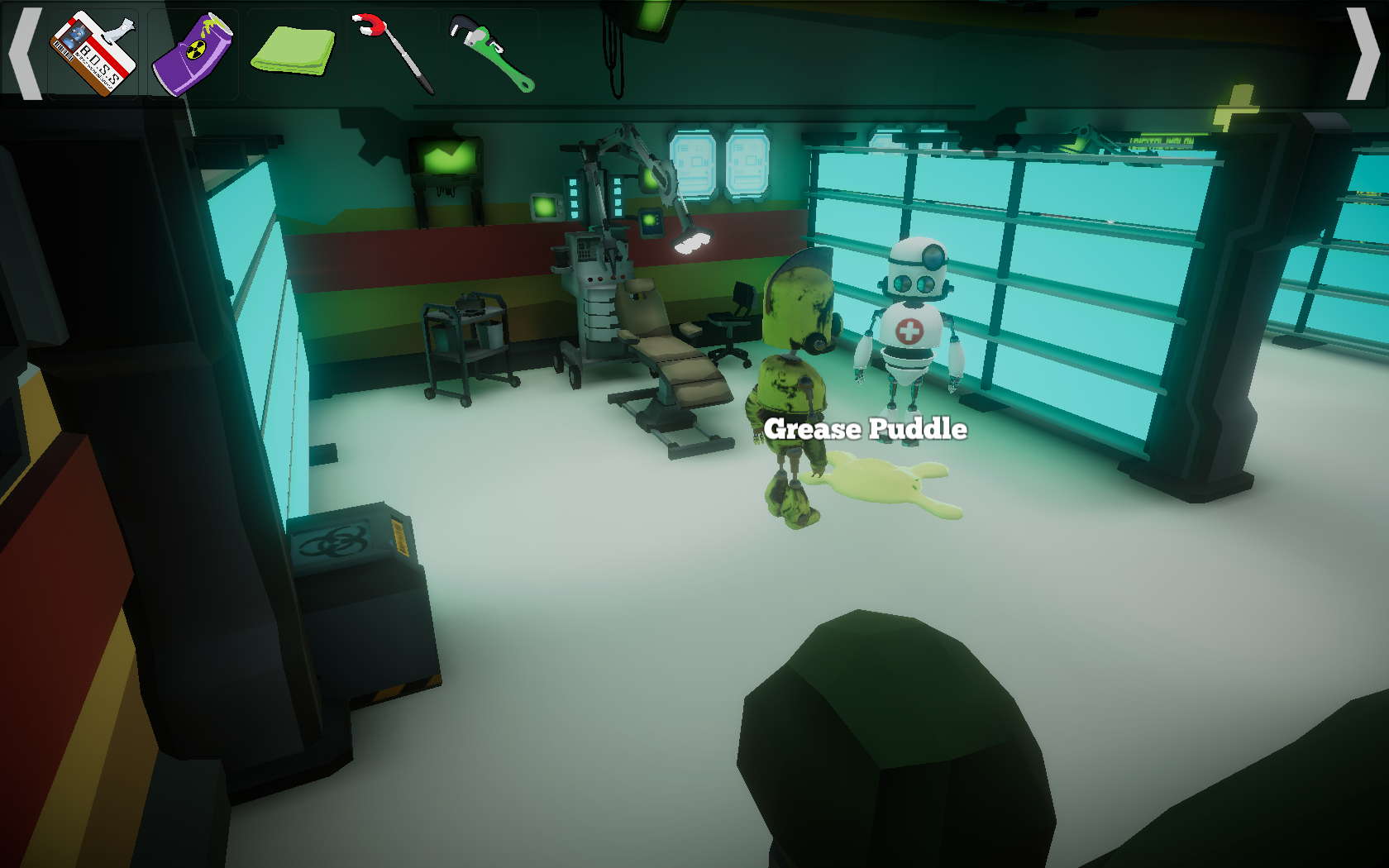 This is sweetniche's first team outing and boy is it a doozy. Rusty's Release is a highly polished point-and-click game with atmospheric and stylishly animated 3D graphics, and quality voice acting for all the characters. With quite a bit of content, this game tells a charming story about a little rusty robot who wants to escape the daily grind. I found myself unable to give this entry anything less than the maximum rating in all categories.
Check out Rusty's Release, by sweetniche
Starstruck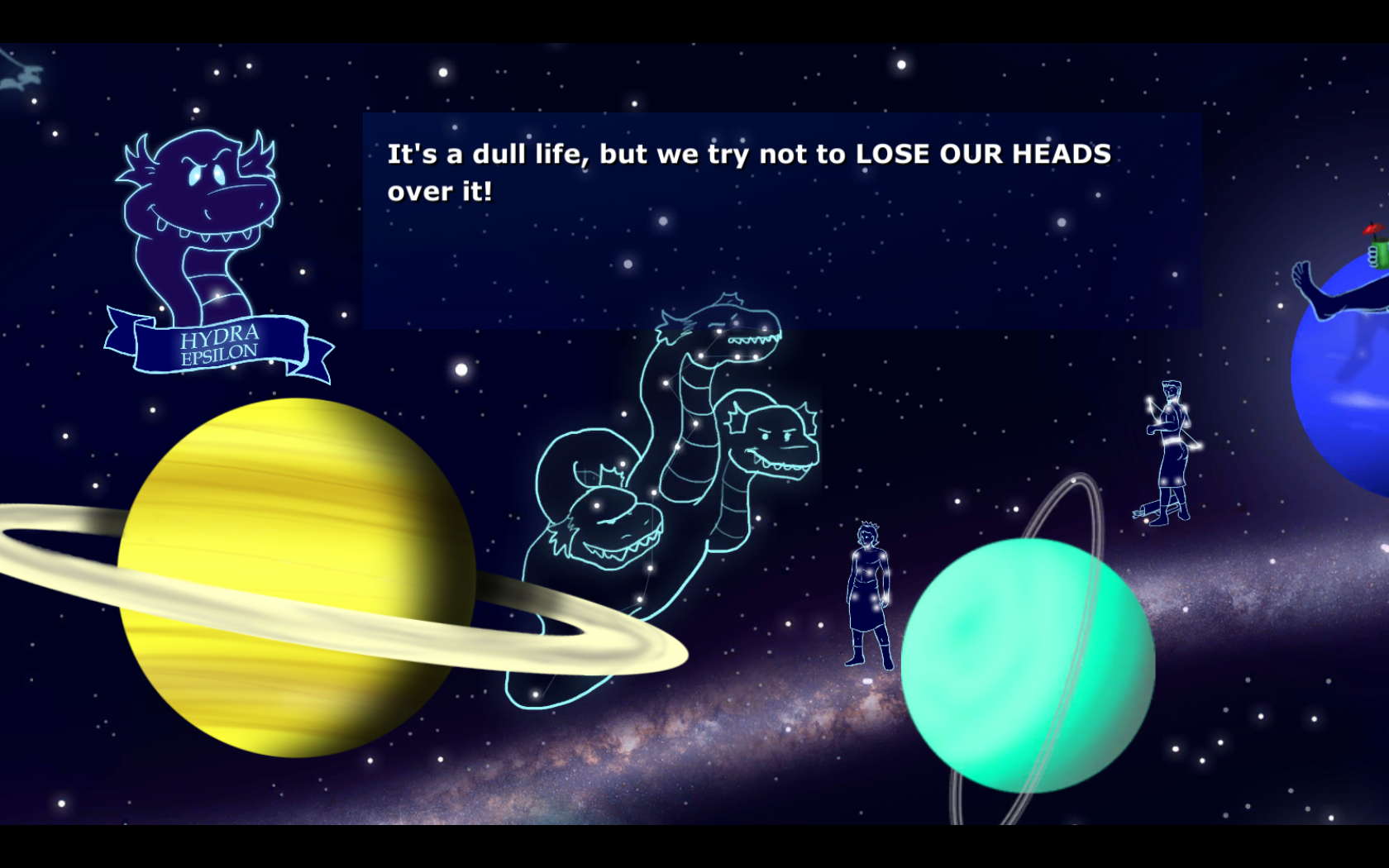 Every billion years, the constellations get to wake up, come alive, and have some fun. Tonight's the night! There's only 1 large, scrolling screen on which the entire story takes place, but there's still a surprising amount of content in that one screen. Even when I thought the story was over, there was still a bit to go. The graphics are beautifully drawn and the writing is very witty. If you have anything remotely resembling a sense of humour, you'll love this game.
Check out Starstruck, by chrisushko
Stately Groan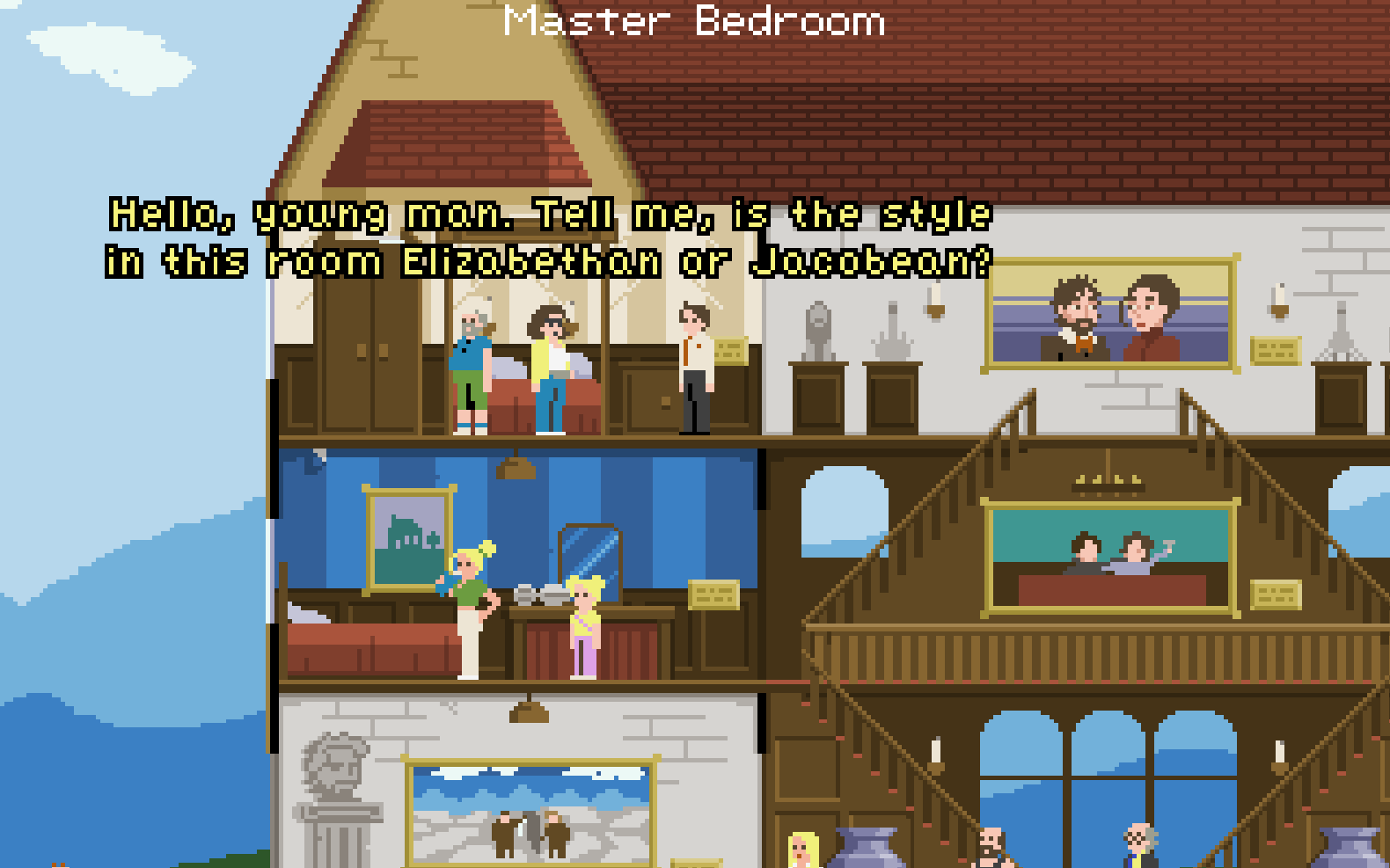 From the developer of last year's Nine Survive, Stately Groan is a new game in the same vein about a tour guide showing up for his first day of work at Didling Manor. This isn't your ordinary job or run-of-the-mill workplace though. There are some fiendishly difficult puzzles in there and you have to pay close attention to the information plaques throughout the manor. A wonderfully weird story that rewards your hard work with a crazy ending.
Check out Stately Groan, by Giddy Plant
To Croak or not to Croak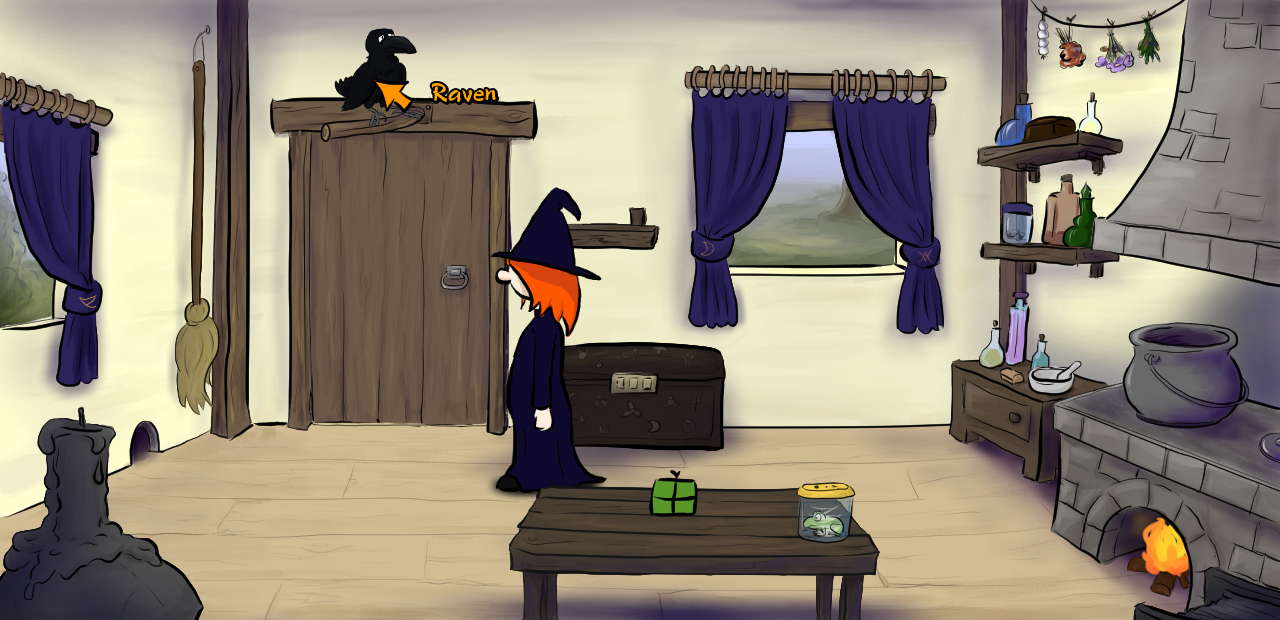 I almost overlooked this game even though it's the exact kind of game that I like the most. A cute story about Griseldis the witch who doesn't really enjoy turning people into frogs. You get to gather the ingredients with your trusty raven Morrigan and mix together some potions. The story is funny and well-written and the ending dialogue made me snicker.
Check out To Croak or not to Croak, by EsmeraldaW
Honourable mentions
I had to limit myself to the ones I wrote about above, but by no means are those the only great entries. Other ones that I'd like to at least mention are: