Plenty of spam to go around
Spam accounts for the vast majority of e-mail traffic. Figures I've read range from 60% to 97% and something in between does not seem unreasonable. Unfortunately, there is no real penalty for spamming and many unwitting people's malware-infested PC's do it, so with the low risk of the real culprits getting caught, it is worth the tiny risk for them to try to scam you out of some cash. The typical spam message most people receive is stuff about drugs (especially Cialis, Viagra or Canadian pharmacies), Nigerian 419 scams, penile enlargement, fake degrees, stock hot market "tips" and stuff like that. When you have a website or at least own a domain name, you will likely receive some other insideous stuff too. Here's some examples.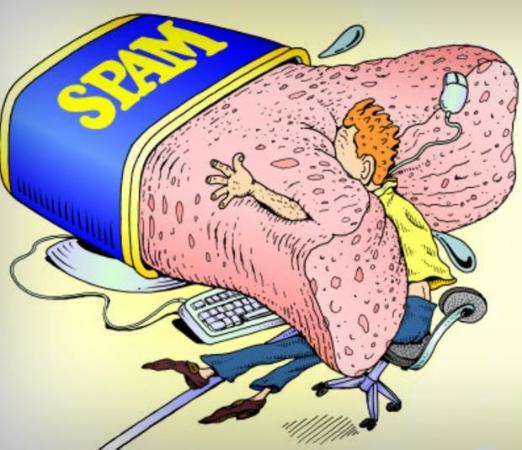 SEO services
Got this one recently. Bad grammar not fixed and names/telephone numbers removed to protect the innocent :
Dear Shdon.Com Team,

I thought you might like to know some of the reasons why you are not getting enough Organic search engine and Social Media traffic foryour website.

1. Your website is not ranking top in Google organic search for many competitive keywords.

2. Your website profile needs to have regular update in major Social Media sites.

3. Your site has less number of Google & Yahoo back links, this can be improved further.

There are many additional improvements that could be made to your website, and if you would like to learn about them, and are curious to know what our working together would involve, then I would be glad to provide you with a detailed analysis in the form of a WEBSITE AUDIT REPORT for FREE.

Our clients consistently tell us that their customers find them because they are at the top of the Google search rankings. Being at the top left of Google (#1- #3 organic positions) is the best thing you can do for your company's website traffic and online reputation.

Our packages are designed for a complete advance SEO experience which includes SMO, Brand management, Reputation management, SEO etc. in order to beat your competitors.

Sounds interesting? Feel free to email us or alternatively you can provide me with your phone number and the best time to call you.

--------------------------------------------------
Best Regards,
Masha Lockwood |SEO Consultant
PH. No: 631-292-4090
AUS: +61-39013-6090
Skype: seo.onlinebusiness

--------------------------------------------------
PS1: This is onetime email and you may ask us to "REMOVE" you from our mailing list.
PS2: We operate 24 x7. I will be happy to send you links to price list, money back guarantee, client rankings, client testimonials, "How we are different from others?", and "Why should you choose us?" on receiving a response from you.
Now Search Engine Optimisation is not necessarily a bad thing, as long as improving your site's attractiveness to search engines also results in a better user experience for the actual visitors to your site. Search engines love nicely structured sites with original, authoritative content and will reward you for it. This is known as white-hat SEO. On the other hand, there is also black-hat SEO, which uses dubious practices that are against search engines' guidelines and attempt to game the system. Matt Cutts and his webspam team at Google are focussed on weeding out this practice and penalising sites that do this. Any company that is willing to spam you to get your SEO business is also likely unscrupulous enough to use black-hat tactics. You might end up paying hundreds or thousands of dollars that you're effectively spending on destroying your search engine ranking and reputation!
Funnily enough, the spammers send these so carelessly that you could end up getting a "helpful offer" to improve the rankings for www.hotmail.com, just because you have an @hotmail.com e-mail address. Or what about this spammer offering to improve Google's own rankings?
Domain renewal
Domain name registrations must be renewed at regular intervals. In most cases yearly. Failure to do so may cause the domain to be cybersquatted and can at least result in some funny or embarassing situations. Therefore this spammer gallantly offered to rescue me from that fate:
Registration Expiration

Order #: 20896170

Order Date: Jan 1, 2014

Bill To: Domain Owner

Don, Steven

Streetname

+31.123456789

Domain Name
EXAMPLE.COM

Registration
Jan 1, 2013 - Jan 1, 2014

Price
$75.00

Term
1 Year

Domain Name: EXAMPLE.COM

To: Domain Owner

Registration includes SE submission for EXAMPLE.COM for 12 months. There is no obligation to pay for this order unless you complete your payment by Jan 1, 2014. SE Services provides submission services and search engine ranking organization for domain owners. This offer for submission services is not required to renew your domain registration.

Failure to complete your search engine registration by Aug 1, 2014 may result in the cancellation of this order (making it difficult for your customers to locate you using search engines on the web).

For Domain Name:

EXAMPLE.COM

UNSUBSCRIBE INSTRUCTIONS

You have received this message because you elected to receive special notifications and offers. If you no longer wish to receive our special notices, please unsubscribe here, or mail us a written request to the attention of: Customer Contact Manager, PO Box 4668 New York, NY 10163-4668. Please allow up to four weeks for the complete unsubscribe process to take place. NOTE: If you have multiple accounts with us, you must opt out for each one individually in order to fully stop receiving these notifications. This message is CAN-SPAM compliant.

Please do not reply to this email, as we are not able to respond to messages sent to this address.
If my domain registrar sent me an e-mail to warn me of impending domain expiration, I'd be grateful. They do, and I am. Registering a .com domain typically costs between $10 and $15/yr, with services such as Hover (Tucows), 1&1 or Namecheap. That immediately explains why they're so eager to "help"... they'll charge you 5 times or more the going market rate for renewing your domain. If you fall for this scam, you will not only pay through the nose (and validate their unethical business model), but your domain will also be transferred to this crooked registrar and you most likely will not get the same level service that you had from your existing provider. Of course, if you do let the domain lapse, these cybercriminals will often attempt to quickly register your domain and hold it for ransom, charging you hundreds (and more likely: thousands) of dollars for the privilege of buying back what you already own(ed).
Of course I haven't really "elected to receive special notifications and offers", they're just putting in that disclaimer to keep up the appearance of a legitimate business. Also, reading the message properly does mention in a somewhat underhanded way that it's not actually a real order/invoice ("There is no obligation to pay for this order unless you complete your payment").
Final thought
Whatever you do, never ever buy anything offered to you by way of an unsollicited commercial e-mail (or anything you did not explicitly sign up for). They send out millions of those at no cost to them and if even 1% of 1% of their victims gives them business, that still means they have hundreds of gullible morons as customers validating their business model and resulting in even more spam.